Posted on 08/28/2019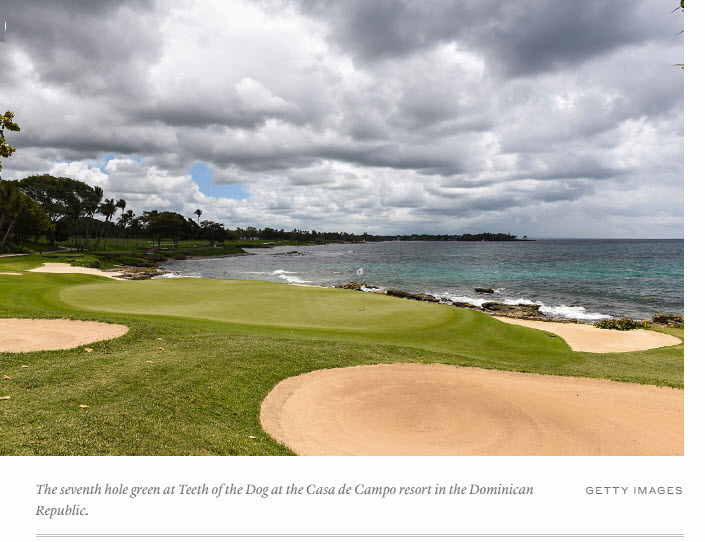 Casa de Campo is a destination for golfers, for families, for vacationers who desire luxury, for vacationers who want comfort. In short: It's for everyone.The resort began as a corporate retreat for Gulf + Western executives and guests in the 1970's. Before, it evolved into a world-class luxury resort.
"Casa de Campo," or "cottage," is a rather understated name for this 7,000-acre tropical playground in La Romana along the southeast coast of the Dominican Republic. When you tee it up at any of the resort's three courses, you're playing at one of the more exclusive getaways in the Caribbean. Its beauty is reminiscent of California's Pebble Beach thanks to its stunning vistas and dramatic pacing. The holes that hug the coastline are worth the trip by themselves. Even without the golf offerings, Casa de Campo is a first-class resort. With a range of accommodations and all-inclusive options. Looking for a sunny destination that can host anything from a buddies trip to a family getaway? This guide will provide a one-stop shop for planning a Casa de Campo vacation.
History
In the 1960's, Gulf + Western purchased the La Romana Sugar Mill. The facility soon became the largest sugar producer on the planet. To better develop the area's economy, some of the profits were used to create a luxury resort replete with championship golf. Developers brought in Pete Dye to survey possible locations. Dye ultimately rejected the first location near Santo Domingo in favor of one near the mill in La Romana. The foreboding parcel of land was too dry for sugar cane, and it lacked adequate vegetation on which to graze cattle.
Machete-wielding workers cleared a labyrinth of heavy underbrush and cactus. The coral presented another challenge. It was too expensive to ship in the specialized equipment required to break up the tough, often sharp-edged rock. Instead, about 300 Dominicans took it on with pickaxes, chisels and sledgehammers. Next, the construction team used soil enriched by cachaza, a sugarcane byproduct. Oxen pulled sugarcane carts loaded with the material from a site a mile away.
The Teeth of the Dog golf course opened in 1971. Dye's seaside creation was originally named Cajuiles, a reference to the cashew trees growing nearby. Another 18 holes opened for play a few years later. An additional 27 holes have been added since the turn of the century.
Located in the Dominican Republic, Casa de Campo officially opened in 1974, and the sprawling 7,000-acre resort is one of the world's best. The golf is superb and well-rounded with the crown jewel being Pete Dye's Teeth of the Dog.
Teeth of the Dog
Ask almost any respected architect to name their favorite course that they've ever designed and they tend to brush aside the question quickly. "That's like asking to pick your favorite son or daughter," is the typical response. Not so with Pete Dye. Without hesitating, Dye singles out Casa de Campo's Teeth of the Dog.
It's easy to see why Dye is so pleased with what he accomplished. In fact there are seven good reasons—the seven holes that practically melt into the Caribbean Sea. The other 11 holes twist through groves of coconut palms and cashew trees and feature Dye's early, memorable flat sand bunkers cut into irregular, somewhat linear shapes. While none of the holes are terribly dramatic, each is soaked with strategy.
Many consider Teeth of the Dog one of Pete Dye's greatest achievements in golf course architecture. Few would argue that it is one of the more scenic tests. Seven of its 18 holes are on the ocean. The championship course ranks among the top courses in the world. One year, Golf Magazine ranked it 48th on its list of the Top 100 Courses in the World, higher than other legendary Dye layouts like Whistling Straits and Kiawah Island's Ocean Course.
About that name, "Teeth of the Dog." No, it's not a reference to hitting your ball into a heavy breeze. Instead, "diente de perro" is a local reference to coral sharp as a dog's canine teeth.
This stunning layout serves up resort golf the way it was meant to be, with hazards treacherous yet avoidable. It's a course that's more playable than punitive. Still, there are innumerable ways for this Pete Dye masterpiece to step up and bite the unsuspecting player.
From the tips, the 7357-yard, par-72 course has a course rating of 75.9 and an impressive slope of 145. In one three-hole stretch, you'll play two par fives that are almost 600 yards long. Tee options bring the yardage down to as little as 5798 yards, so everyone in your group can play at a comfortable level.
Still, it's the seaside collection you came for, and it doesn't disappoint. Your first glimpse of the magical sea is at the par-5 third, on the right side. Sensory overload takes over at the 176-yard, par-3 fifth, the start of an unforgettable four-hole sequence. You practically tee off in the sea. Water laps at the coral rocks as you settle into your stance. You pause, just long enough to take in the sound of the waves, the gentle, warm Dominican breezes and the color contrasts of clear blue seawater, tawny bunkers, vibrant green paspalum grass, flecked coral rock—it just soothes the senses.
Eventually you emerge from your daydream and find your way to the 229-yard, par-3 seventh, which is an even more demanding hole. The hole consists of little more than a tee and a green, the distance between the two being entirely taken up by a long expanse of sand built up from the rocky shore. It parallels the Caribbean in its graceful arc and is framed by a large waste bunker, smaller traditional bunkers, mounds and trees. It's an exquisitely framed, gorgeous golf hole.
The back nine swings inland before returning to the sea on holes 15, 16 and 17. Don't discount the inland holes. Your journey through the cashew trees and palms will be punctuated with frequent excursions into the sand if you're not careful. The 13th green is a virtual island in a sea of sand.
Inevitably, Casa de Campo's other 63 holes are overshadowed by Dye's 46-year-old masterpiece. They're definitely worth a look. The 27-hole Dye Fore, a 10-minute shuttle ride from the resort, is the most underrated course in the Caribbean. Built by Dye in 2003, Dye Fore soars with several holes on the Marina nine that dogleg around a boat-filled harbor, then peaks on the Chavon nine, which sports a fistful of holes draped atop 300-foot cliffs that peer down at the Chavon River. Both par-3s, the third and the sixth are unforgettable. More forgettable, however, is the club's seemingly detached third nine, called Lagos (Lakes), but if you're in a hurry, this lightly-played layout is the place to tee it up.
The Links Course
Dye crafted Casa de Campo's flattish Links course in 1974, and it serves a worthy purpose, even if it's not a Top 100-caliber design. The Links Course opened for play 1977. In 2012, the layout benefited from an extensive face-lift. True links golf invokes thoughts of windswept layouts in the British Isles. Here, trade winds frequently deliver breezes worthy of an authentic links experience, albeit at a warmer latitude.
The Links Course is the most playable course for higher handicaps, convenient for resort guests and offers plenty of golf in a breeze on the watery back nine. In fact, some consider it one of Pete Dye's easier tests. The par-71 layout plays at 7,003 yards from the back tees. However, the slope is a modest 126. Level lies abound, although there are some elevation changes along with contouring around the greens.

Dye Fore
In 2004, Pete Dye cut the ribbon to open Dye Fore, the third Casa de Campo golf course. Dye Fore is only minutes away from the resort proper via shuttle. The resort's website suggests Dye Fore is "to die for," and who can argue?
The Marina and Chavon nines combine to play a seriously long 7,724 yards from the back tees. The course rating of the par-72 test is a 77.0, yet the slope is a manageable 134. From the tips, every par 5 is more than 600 yards long. The 232-yard 12th and the 210-yard 15th rank among the Caribbean's premier par 3s.
The Marina nine includes several holes that skirt the water. The view of the harbor and marina from the 5th tee is tantalizing. The punitive par-3 3rd stretches to more than 230 yards. Ravines, mounds and bunkers await errant shots.
Some of the holes on the Chavon nine are routed along 300-foot cliffs. Between shots, savor panoramic views of the Chavon River, Dominican mountains, the Altos de Chavón art village and the marina.
The Lagos nine, added in 2011, is somewhat less demanding. In of, it's the perfect refuge for those wanting to play a quick nine. You'll encounter water hazards on five holes. On the par-5 6th, water and a massive waste bunker grab shots that flare to the right. On the following hole, a par-3, a boulder-lined lagoon drowns any shot short or to the right.
Casa de Campo has long attracted important golf tournaments to its championship layouts. Soon after the Teeth of the Dog opened, Casa de Campo hosted the World Amateur Golf Championships. It also hosted the Latin American Amateur, founded by the R&A, USGA and The Masters to promote Latin American golf.
La Romana Country Club isn't really underrated, it's more unknown. Designed by Dye in 1990, it's the private club for residents of the Casa de Campo development. Yet, it's not even offered up to resort guests. Those in the know, however, can make an inquiry—the club keeps a few tee times available for resort guests. Should you play it? Do if it you're a checklist-type. It's always cool to have ticked the "secret course" box. It's a quality layout, too, neither as bold, nor as brutal as Dye Fore, but infused with more character than the Links course. You'll move around faster, too.
Greens Fees
Casa de Campo guests enjoy discounted rates at all three courses. For example, a guest pays $195 to play Teeth of the Dog from May to October. From November to April, the rate is $250. During that six-month period, non-guests can pay as much a $395 to take on Teeth of the Dog. Stay and play packages are often the best bet for avid golfers.
Staying at Casa de Campo
There are two main accommodation options: resort rooms and villas. Resort rooms offer a private patio/balcony and all the luxury amenities you'd expect. Golfers should target the Golf Lodge rooms, which are located close to the main clubhouse. These rooms have modern touches while maintaining comfortable details like wooden closet doors and ceilings. The villas are game changers for large groups. Families or wedding parties can book houses for their stay and live in luxury. Depending on the villa option and your budget, you can have breakfast prepared daily in house, private pools or personal butler and concierge services included. Some of these properties are resorts within a resort.

Obviously, it comes with a premium price, with Garden villas beginning at $1,000/night and Oceanfront villas at $4,950.

Food and Drink
The rub with some all-inconclusive s the lack of dining options. Not the case here. Casa de Campo has seven restaurants and six bars on the property, serving a wide variety of cuisines. The Beach Club sits right on the beach and offers a walk-up spot for lunch or an upscale dinner.

For a breakfast buffet you've only dreamed of, head to Lago in the mornings. With a table overlooking the 18th hole at Teeth of the Dog and the ocean, there are worse ways to start your day. La Piazzetta is at the scenic Altos de Chavon and has authentic and homey Italian atmosphere, La Casita sits on the marina docks and will satisfy your local Dominican fare desires, and Pubbelly Sushi serves casual Asian food to perfection.
While all of the above are included in the standard all-inclusive package, the options are plentiful if you decide to forego the dining plan. There are several other options for dinner that are located within the resort that aren't official resort properties. The concierge service can assist with booking reservations for each night. Note: some require collared shirts and long pants for dinner.
Getting There
There are several ways to get to Casa de Campo.
La Romana International Airport (IATA: LRM | ICAO: MDLR) is five minutes from the resort. The local airport caters to charters and private aircraft. Several days a week, it is possible to take Jet Blue directly to La Romana Airport from New York City, and you can get into that airport from various east coast outlets like Atlanta, Orlando or Miami. Flight time from Atlanta is three hours and 40 minutes, and it's in the Atlantic time zone, so it's one hour later than eastern time.
From there, it's a little over an hour down a major highway to the resort. Santa Domingo tends to have cheaper routes, but Punta Cana International (PUJ) also has some options from the U.S. and is a bit closer. (If you want to tack on some extra golf, the Jack Nicklaus-designed course at Punta Espada is breathtaking and on the way.)
For those who value ease over everything, Casa de Campo also has its own airport, La Romana International Airport (LRM), that's minutes away from the front desk, but is may be tougher to find a flight that fits into your schedule. Casa de Campo offers airport transfer services from all three airports, which is recommended. Once you're at the resort, your rental car won't be cranked up.
Non-Golf Activities
Even if your clubs stay at home, there's no shortage of options for leisure or activity at Casa de Campo.

The beach is the main draw. On the map, it may seem like a small beach for a large resort, but it never feels cramped. With drink service without leaving your chair, a full restaurant and water activity equipment for rent, it leaves you wanting nothing. For a more secluded experience, you can book a trip to Catalina Island, where a boat transports you to an island that is less populated and offers a beautiful reef that is ripe for snorkeling.
Next to the main lodge is a pool with cabanas and a swim-up bar. The resort also has a 245-acre shooting center that boasts a 110-foot tower that projects sporting clays, an equestrian center that offers trail rides as well as polo lessons and 13 tennis courts at the tennis center. Altos de Chavon is a replica of a 16th-century Mediterranean town within the resort that has local craft shops and beautiful vistas of the river complete with old-school cobblestone streets.
Off the resort, Altos de Chavón recreates a 16th-century Mediterranean village atop a hill overlooking the Chavon River. It is, among other things, a center for art, music and culture. You'll find artist studios along the cobblestone streets. It is the home of Altos de Chavon School of Design, an educational institution affiliated with New York's Parsons School of Design. The village includes a 5,000-seat Grecian-style amphitheater. Frank Sinatra gave the inaugural performance there in 1982.
The marina village offers a variety of restaurants. Savoring a sunset out on the piazza is a sublime pleasure.